Stay. Explore. Relax. Eat. Repeat. All in the plans at our Flagler Beach Hotel—one of the best places to stay in Florida. Our cozy beachfront Inn is ideal for a quiet getaway, set back on the southern end of Flagler Beach, but only a quick journey into the charming and bustling town center. Spend your days with your toes in the surf or the cinnamon sand, lounging by our pristine pool, or exploring our sleepy bedroom community by bike.
As one of the best places to stay in Florida, you'll notice from the minute you arrive that our gracious service, tropical garden grounds, and beautiful guest suites all set the scene for the ultimate beach retreat. Channeling old-school Florida resort vibes with a touch of French seaside flair, you'll feel the stress from everyday life zip away as you unpack your bags and slip into your bathing suit.
We can't wait to host you at Island Cottage Inn; start planning and book your suite today!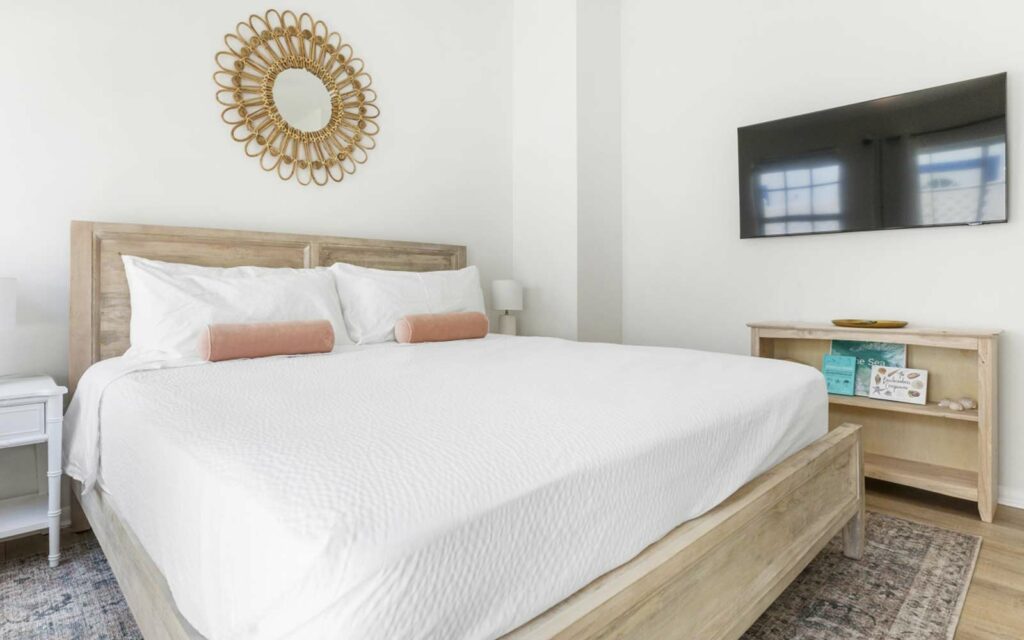 One of the Best Places to Stay in Florida
We get it. We're all tired and stressed from figuring out the new normal: working from home, just back-to-the-office, or some sort of in-between. It's a work-in-progress that leaves everyone exhausted. There's never been a better time to plan a vacation, especially one where relaxing is the number one priority.
Here are six reasons to book at Island Cottage Inn—one of the best places to stay in Florida:
Pretty & Plush Guest Suites: We have eight thoughtfully appointed guest suites at our Flagler Beach Hotel. Bright white accented with rosy pinks, Beachwood, golds, and pops of color. Each with its own character, but all with the utmost comfort in mind. Suite One is tagged as our Honeymoon Suite with a luscious King Bed, a seating area with a gas fireplace for cozy evenings, and a balcony boasting ocean views.
Elegant & Spacious Spa Bathrooms: Crisp white subway tile, muted color accents, and high-end fixtures adorn our freshly remodeled modern bathrooms in each suite. Most rooms feature spacious walk-in showers, and our Honeymoon Suite includes an extra large bathroom with a luxurious soaking tub.
Top of the Line Products: A major reason why we're one of the best places to stay in Florida is our attention to detail, and that's crystal clear with the brands we carry: award-winning Helix mattresses, 100% cotton sheets, Public Goods bath and body products, complimentary Boxed Water, and premium bamboo toilet paper.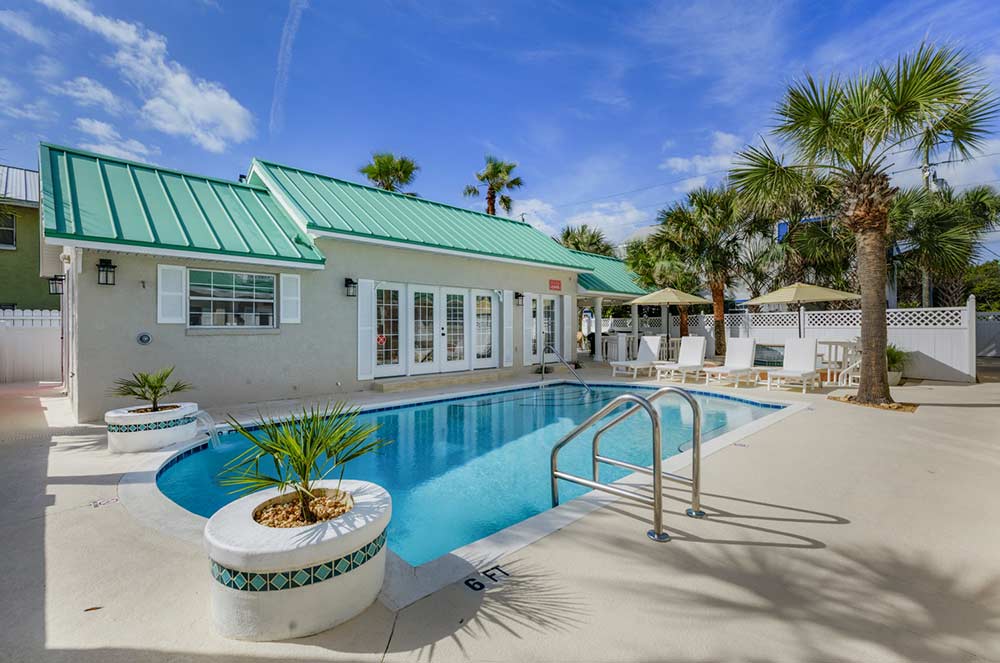 Complimentary Perks: Aside from your beautiful private suite, you'll have complete access to our shared spaces. Take advantage of our pool, find a shady spot in the garden to read, or enjoy a glass of organic wine from Terroir Selections at the cafe. We prepare a gourmet continental breakfast each morning, including custom blend coffee from Bent Tree Roasters. This is just the start of what makes our Inn one of the best places to stay in Florida; here's a complete list of our luxury amenities included in your stay.
Ideal Beachfront Location: Our quiet slice of paradise has everything you'd want for a relaxing getaway to the beach. We have grab-and-go beach chairs, towels, and umbrellas to take to our private sandy shore. Hop on one of our complimentary bikes and cruise the sleepy streets to nearby restaurants, shops, and the lush Gamble Rogers recreation area.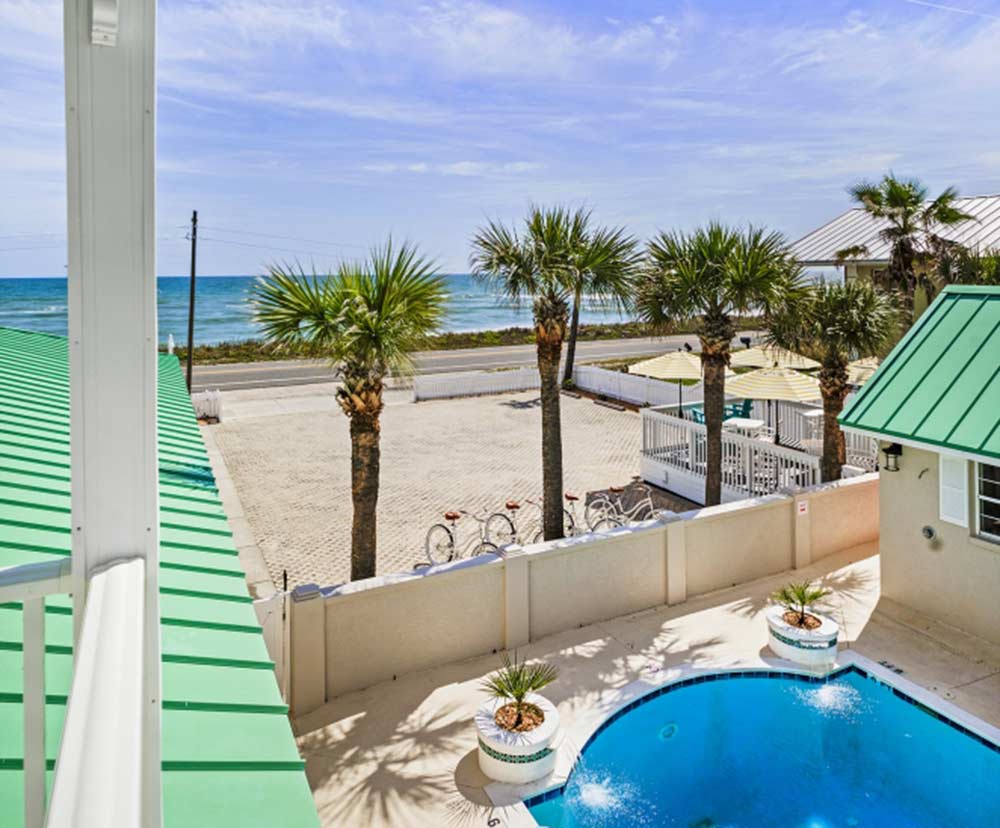 Relax in Paradise at the Island Cottage Inn
Another key element that makes our Flagler Beach Hotel one of the best places to stay in Florida is our warm and welcoming service. As innkeepers, we strive to be available when needed but know that privacy is a top priority for many guests. You'll appreciate our unobtrusive style of hospitality; you'll know where to find us. Join us for Saturday happy hour each week for a glass of wine with cheese pairings, lively conversations, and curated rotating music playlists.
Book your next beach getaway at one of the best places to stay in Florida today!