When visiting Florida, usually guests have two main things in mind: the beach and spending some time on the water. The Intracoastal waterway is a fantastic way to enjoy both! We're also known in Florida as the "fishing capital of the world" so if you have any interest in angling, this is a great place to start. The Intracoastal waterway is full of fish and makes for absolutely beautiful surroundings.
The Intracoastal waterway is actually a 3,000 mile inland waterway that runs from as far north as Boston, Massachusetts all the way down to the southern tip of Florida. These channels, natural inlets, and rivers create fertile lands for plants, marine, and wildlife. While also generating many places for fun and safe water recreation, from fishing, kayaking or canoeing, speed boating, swimming, and birdwatching.
As a guest at our Flagler Beach Hotel, you'll have direct access to our lovely beachfront, as well as be in an ideal location to spend time on the Intracoastal waterway. Our luxury hotel is truly a little slice of paradise for a romantic getaway to the Palm Coast. Guest rooms have all of the needed amenities for a relaxing and rejuvenating stay, from in-room Jacuzzi tubs to private balconies for taking in the sound of the waves.
Join us in Flagler Beach for an amazing vacation in Florida by booking your room today!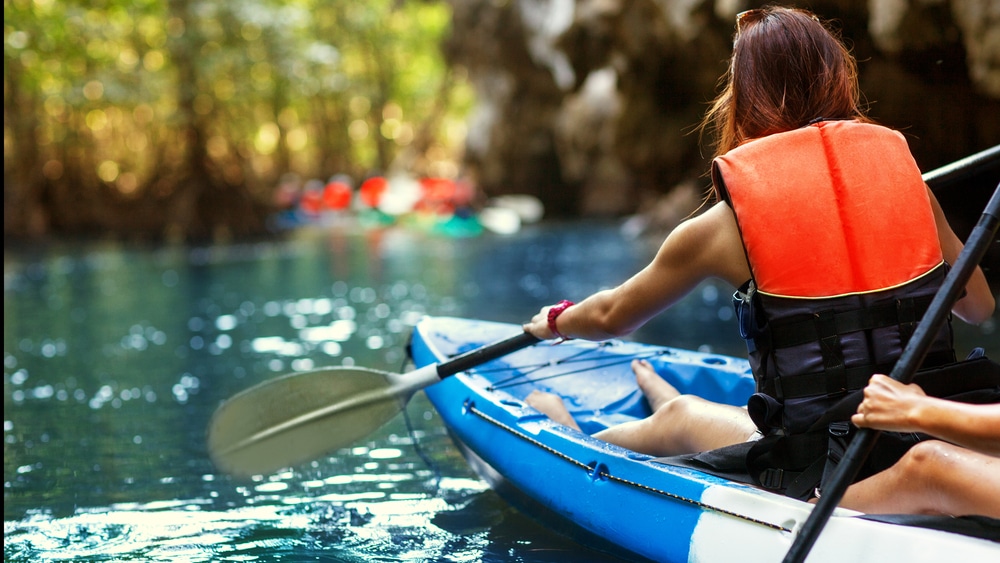 Spend a Day Exploring the Intracoastal Waterway
One of the best ways to explore our Flagler Beach area is by boat. The Intracoastal waterway is made up of natural inlets and saltwater rivers, separate from the open waters of the ocean, so many visitors to the area feel more comfortable navigating these waterways.
Here are six of the best ways to explore the Intracoastal Waterway near our Flagler Beach Hotel:
Fishing: The Intracoastal waterway is a great place for catching some local sports fish. Boaters can weave around the canals, searching for the best spot to drop anchor and sit back with their lines in the water. Palm Coast Fishing and Boat Rentals offers charters for fishing excursions on the inshore saltwater Intracoastal waterway for half or full-day outings.
Harvesting Shellfish: There are areas within the intracoastal waterway designated as shellfish collection zones. It's a popular pastime for visitors and locals alike to harvest oysters and hard clams. Thankfully, the Bahamas Villa has a full kitchen for guests who enjoy cooking a meal or two for themselves.
Kayaking & Canoeing: Many local businesses near our Flagler Beach Hotel offer kayaks, canoes, paddle boards, and gear rentals. Tropical Kayaks, a family-owned company, provides sturdy two person kayaks, maps and directions for navigating the intracoastal waterway.
Pontoon Boat Rentals: You'll also find plenty of options for pontoon or sport boat rentals in the area for exploring the intracoastal waterway. Be sure to ask these seasoned and experienced folks for the insider information on the best routes to try out.
Swimming: Along the path of these inner coastal rivers, you're likely to find a few sandy and secluded spots to stop off for a dip in the refreshing salt water. Pack a picnic and a big blanket to enjoy a white sandy location for lunch.
Wildlife Viewing: Due to this diverse landscape these waterways create, wildlife viewing is a memorable experience in the Flagler Beach area. A particularly good spot is Bulow Creek State Park where birding is always a success. As you paddle along the intracoastal waterway keep your eyes peeled for great blue herons, wood storks, egrets, and wood ducks.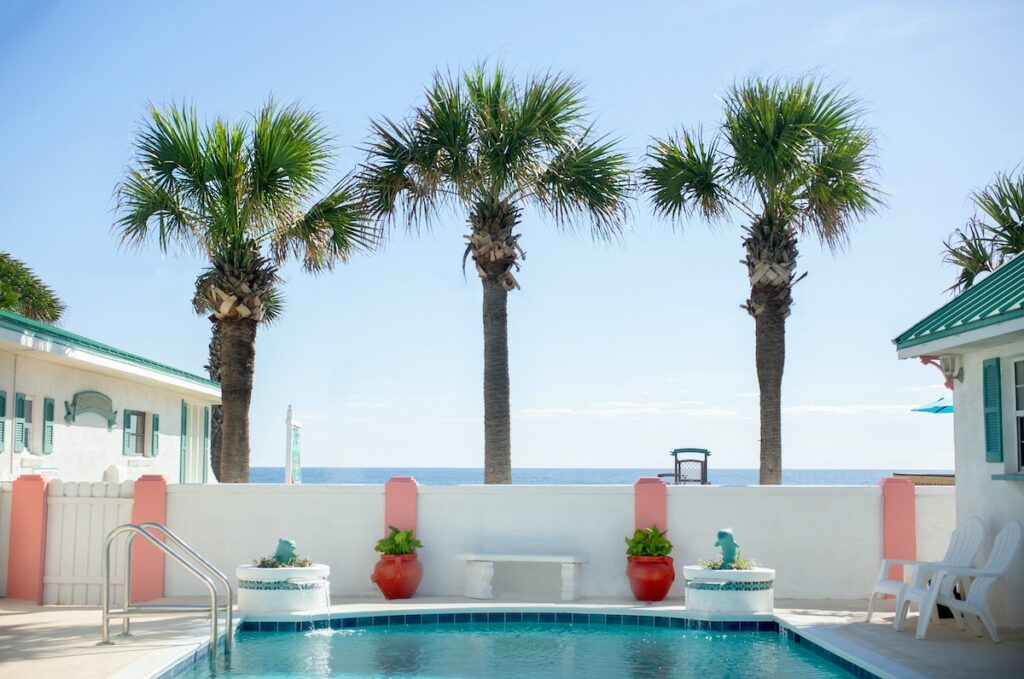 A Relaxing Tropical Retreat at our Flagler Beach Hotel
Allow us to welcome you back to our Flagler Beach Hotel after an excursion on the intracoastal waterway and beyond. Our private and pristine pool area is a favorite spot for guests to enjoy a glass of wine, take a dip in the cool water, or just sit back and relax. With the ocean as your backdrop, you'll be able to sink into the calming vibes of paradise among the fountains and tropical gardens.
Back in our guest suites, you'll find luxury linens, comfortable beds, cozy chairs, and stunning views. If you're here for a romantic getaway we offer a few add-on packages to really enhance your stay. The "Champagne, Romance & Roses" package is the best choice to really up the wow factor at check in. You'll find a dozen roses plus petals scattered in the bathing area, a bottle of sparkling wine, and hand-dipped chocolate strawberries.
It doesn't get much more romantic than that! Book your room today!