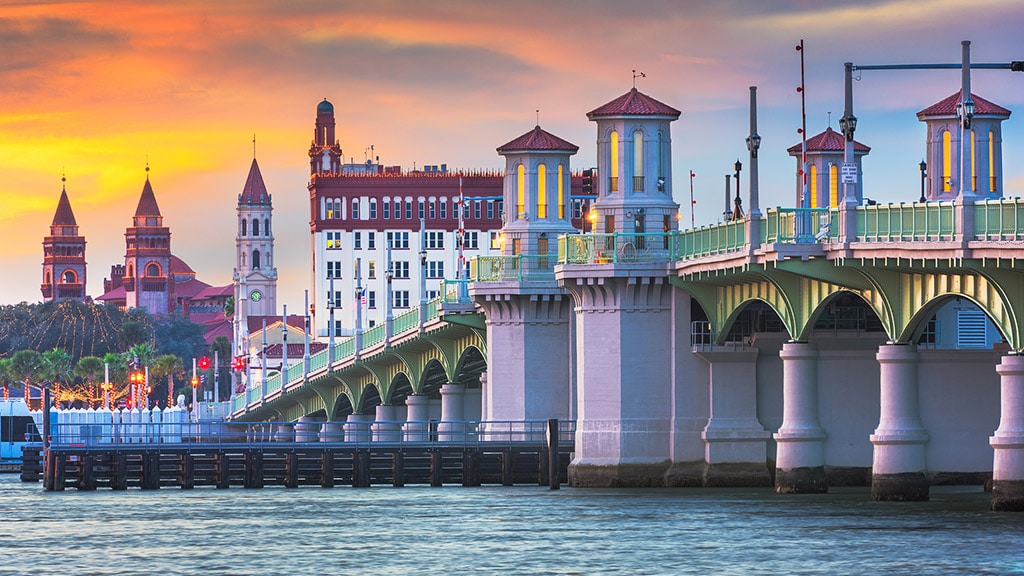 Though spending time relaxing at our oceanfront hotel and lounging on the beach is really all you need to do while in Florida, there are plenty of great places nearby worth exploring, including beautiful downtown St. Augustine. As the nation's oldest city, there are a number of incredible things to do in St. Augustine. This summer is the perfect time to experience them, too!
St. Augustine was originally founded in the 1500s, becoming a Spanish colony in 1565. Much of the "old town" feel of St. Augustine is captured in the city's top historic attractions, which are intermixed with a number of delicious restaurants, and wonderful shops, galleries, and more to explore. One of our favorite things to do in downtown St. Augustine is to admire the historic buildings, many of which date back to the 1700s, and walk down St. George Street, where it feels like you've stepped back in time.
A stay at our beachfront hotel offers you a chance to relax and unwind in pure luxury, surrounded by nothing but a gentle ocean breeze and the crashing lull of the waves.  Every now and then, you'll be ready for a change of pace, and our location between popular destinations like Daytona Beach and St. Augustine makes that easy. With an unbeatable location and world-class amenities, there's no better choice than our Flagler Beach hotel.  Book your room today!
10 Top Things to do in Downtown St. Augustine
The charming character of bustling St. Augustine has been defined by centuries of history. Visiting the city's historic attractions and understanding the legacy of this town is an important part of any visit to St. Augustine. There are so many incredible things to do, too, and this is truly what makes downtown St. Augustine such a special place to visit while you stay with us.
As you wander through the streets of downtown St. Augustine, you'll notice the distinct blend of cultures, including British, Irish, French, Minorcan, African, Spanish, and Native American. These cultures and their impacts on the city have been well-preserved, to the point that walking through portions of downtown St. Augustine really is like stepping back in time, and seeing the city as it once must have been.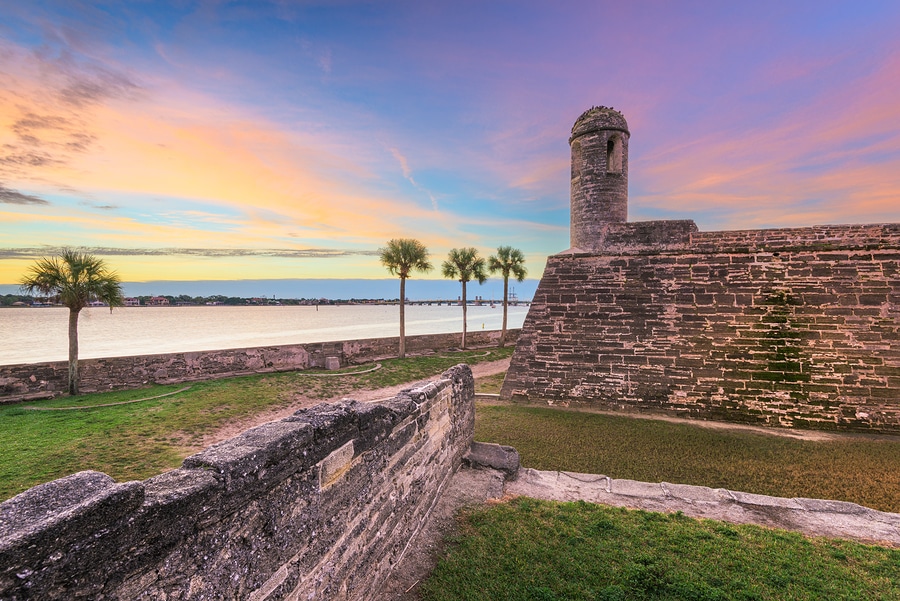 You won't run out of things to do in downtown St. Augustine this summer, but you can get a healthy feel for it during a day-long excursion. Here are a few of our favorite things to do in downtown St. Augustine:
The Castillo de San Marcos is the oldest masonry fort in the country, and one of the most popular attractions in all of downtown St. Augustine.
Another popular place to visit is Ponce de Leon's Fountain of Youth Archeological Park. This park is actually the site of the first settlement in St. Augustine, and as the name suggests, it's the inspiration behind the long-lasting legend of the magical properties of the water here.
The beautiful Bridge of Lions is one of the most photographed structures and stands solidly as an iconic symbol of the city.  Don't miss your chance to gaze and appreciate the architecture of this stunningly historic drawbridge.
Walk along St. George Street, a pedestrian-only brick-paved street that is home to some of the best restaurants and shops in downtown St. Augustine, as well as a number of wonderful historic attractions. At the northern end of the street, you'll find the Old City Gates and the Oldest Wooden Schoolhouse, while at the southern end is the Colonial Quarter.
Do you enjoy living history? Then head to the Colonial Quarter, which is home to a variety of costumed reenactors. The area is divided up into 4 main sections, including the 16th Century Spanish First City, the 17th Century Spanish Fortified Town, the 18th Century Spanish Garrison Town, and the 18th Century British The 14th Colony.
Get in on the fun and take a tour of the Old Jail, led by none other than costumed actors. It's a very popular destination for lovers of the paranormal!
The St. Augustine Lighthouse and Marine Museum are where you'll go to learn about the maritime history of St. Augustine.  Enjoy the view from the top of the 165-foot tall lighthouse.
Visit the Lightener Museum, which not only houses an impressive collection of 18th-century art but features some unconventional and interesting items that are unique to this museum.
Have you ever wondered what it was like to live during Colonial Times? Tour the Oldest House Museum in downtown St. Augustine, and you'll soon find out!
If you're short on time but big on history, then you should take the Old Town Trolley Tour. It's a great hop-on hop-off way to get around and see the most of the city in a day!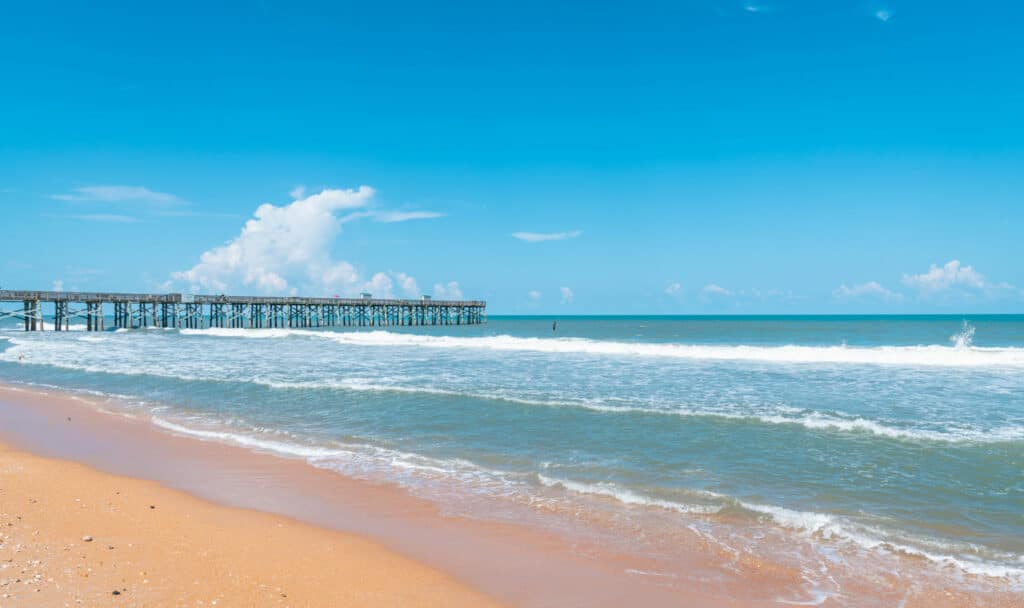 The Best Hotel Near St. Augustine
Whether you choose to do nothing but relax poolside or on our private beach, our Flagler Beach hotel is here for you.  We offer complimentary beach chairs, towels, and umbrellas to make your stay stress-free, and each of our 8 distinctive suites will satisfy your need for peace and quiet, away from the buzz of a busy city.  Choose to dine al fresco with us on our newly completed deck, which offers breathtaking ocean views, or enjoy these treats poolside. We also offer an on-site café that provides a traditional fine-dining experience that is exclusive to guests of the Inn.
When you do feel like venturing further afield, there are plenty of things to do in Flagler Beach and the surrounding areas, including visiting the popular and busy destinations of Daytona Beach and St. Augustine. This summer, discover the timeless charm of "Old Florida" from the beach to the city, and everywhere in between.  Book your stay at our hotel near St. Augustine today!