There's no shortage of great restaurants in Flagler Beach — beginning with our own! Few things soothe the soul and inspire the spirit of romance quite like a relaxing getaway on a beautiful Florida beach. And for many that scintillating image is most complete when contemplated on a Florida beachfront deck with delicious food and drink. At our small, cozy Flagler Beach luxury hotel, we've got you covered on all fronts.
Our cozy beachfront hotel not only offers fireplaces, Jacuzzis, a heated pool, and luxurious oceanfront rooms overlooking a private beach but offers breakfast, lunch and dinner exclusively for our guests. Reserve your room with us today — nearly 300 five-star reviews on TripAdvisor can't be wrong!
Discover One of the Best Restaurants in Flagler Beach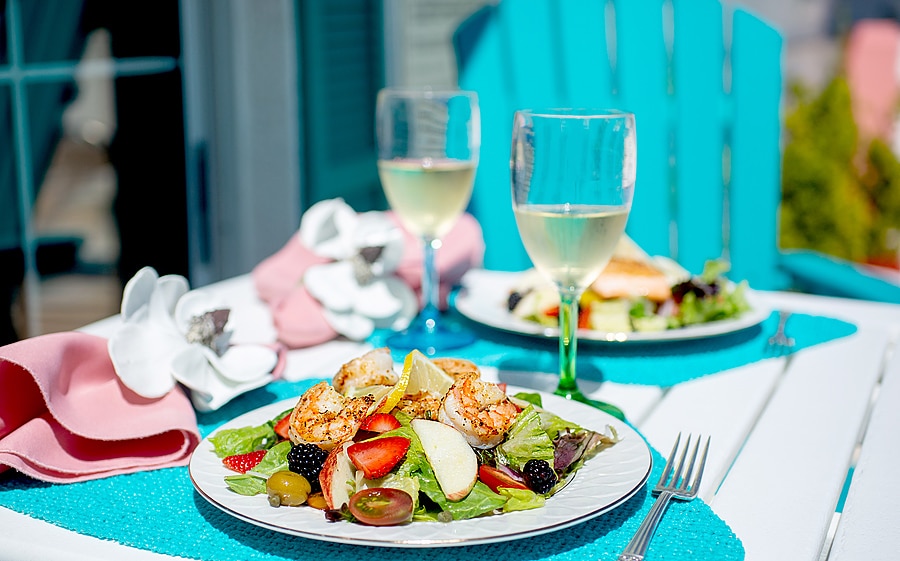 There's no shortage of great restaurants in Flagler Beach, which means you'll have plenty of places to choose from once you're here.  Our own restaurant here at Island Cottage Oceanfront Inn is, of course, among the best! Here, we have a dining option to match your every desire. You can dine al fresco with a breathtaking view of the Atlantic from our newly added oceanfront deck, or you can enjoy a meal at our poolside seating, as well as at tables under our pavilion and around our waterfall fountain. For a more elegant dining experience, enjoy our on-site café with fine linens, china, and crystal. Room service is also available upon advance request.
Imagine yourself watching the morning surf while enjoying a cup of coffee, a glass of juice or a mimosa, while savoring an omelet, a fruit and cheese platter, or even Bananas Foster french toast. We offer options to please any palate and any size of appetite, with a number of a la carte choices.
Later in the day, savor some of our specialty entrees. We have a delicious array of dishes to choose from, including salads, cheese plates, shrimp taco platters, and one of our favorite appetizers, the Shrimp Mojito – all of which are perfect for lighter appetites! For heartier appetites, try one of our popular dinner dishes, like our deliciously creamy Salmon Piccata, homemade Fried Shimp, Filet Mignon, or homemade Chicken Parmigiana.
In short, we've got your dining wishes covered. Whatever it is you try, you certainly won't be disappointed! And best of all, no crowds — our dining service is exclusively for the enjoyment of our hotel guests.
More Great Restaurants in Flagler Beach to Try
If you'd like to spread your culinary wings a little during your visit, we happily recommend a number of fantastic restaurants in Flagler Beach and just beyond with awe-inspiring food and ocean views.
Our guests can walk to these restaurants in Flagler Beach:
Also in the vicinity are these favorite restaurants in Flagler Beach:
And if you're in the mood for some beachfront nightlife, we suggest these restaurants in Flagler Beach:
Looking for special-occasion dining? Here's a few just outside Flagler Beach that we recommend: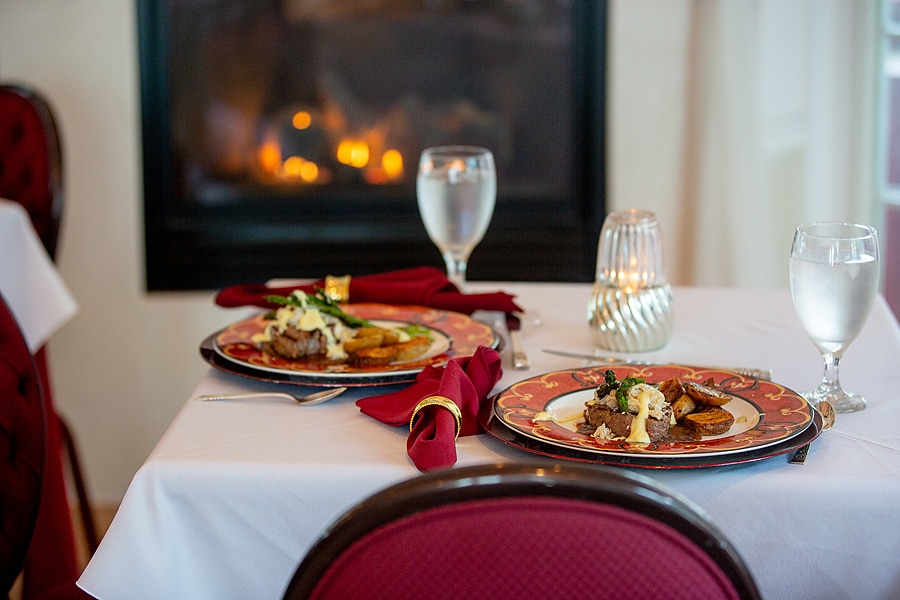 The Perfect Place to Stay, and Dine, in Flagler Beach
Great restaurants in Flagler Beach are everywhere! Whatever you do in Flagler Beach, or beyond, we hope you'll begin and end your day at our luxury oceanfront inn, and remember that a good dining experience can be as close to you as the front door of one of our luxuriously appointed guest rooms. Reserve your room today!