While you're enjoying your stay with us at our luxury Flagler Beach Hotel, you'll want to start planning some classic Florida outings, like a day exploring Washington Oaks Gardens State Park. Just a quick 20-minute ride down the beach by car and you'll be in the historic 425-acres of coastal beauty, formal gardens and lush groves of towering Oak trees.
Before you head out for a day of biking or roaming the grounds of Washington Oaks Gardens State Park, you'll wake up in the absolute paradise of our Caribbean-themed guest villas. Many of which have ocean views, Jacuzzi tubs, fully equipped kitchenettes and balconies.
Our 5-star Breakfast is provided by our own in-house chef/owner and is a fantastic way to fuel up for a day of adventuring at Washington Oaks Gardens State Park. We encourage you to take your meal al fresco on our new outdoor deck with stunning views of the Flagler Beachfront, but you're more than welcome to dine in the privacy of your own suite or by the pool. An exciting adventure is waiting for you, start by booking your room today!

The 6 Best Ways to Spend a Day at Washington Oaks Gardens State Park
Wouldn't it be nice to sit in this shady gazebo for a listen to native birds singing surrounded by flowers and lush greenery? If you'd really like to take in the flora and fauna of this area, a visit to Washington Oaks Gardens State Park is a must and there are lots of nice, relaxing spots to breathe in the fresh air and just really be in nature. Below, we'll help you plan your visit with the six best ways to spend a day exploring at Washington Oaks Gardens State Park.
The formal gardens are known as the "centerpiece" of the Washington Oaks Gardens State Park. You'll see native and non-native plantings along your leisurely stroll among the azaleas, birds of paradise and camellias. You won't want to miss the elegant rose garden, perfect for a peaceful promenade surrounded by 150 hybrid tea rose bushes. This is a popular destination wedding spot, too.
Perhaps the showpiece of Washington Oaks Gardens State Park, is where it gets its name, the almost 300-year-old Washington Oak. The gigantic tree has withstood the test of Florida weather: droughts, hurricanes winds, fire and flooding, but it still stands today as a reprieve from the sun for visitors.
Another interesting geological element at Washington Oaks Gardens State Park is the shoreline along the Atlantic Ocean, which is covered in unique coquina rock formations. Coquina is a sedimentary type of rock that is mostly made up from shells, mollusks, and other invertebrates. Due to this there are some beautiful tide pools and beach-combing feels even more like treasure hunting.
Pack a picnic! Whether you spread a blanket out on the warm white sand, find a special spot under the grand Washington Oaks or park yourself under the covered pavilion area with tables and grills, there are plenty of places to enjoy a lovely charcuterie and cheese plate while soaking up the scenery.
Strap on your hiking shoes or your bike helmet. Washington Oaks Gardens State Park has trails for both past times. For example, the Mala Compra, an easy half mile hike for all levels of experience takes you into the coastal forest and the tidal marsh along the Matanzas River. While the hike and bike trails of the Bella Vista trails give you more of a glimpse of the dense canopied area and the coastal scrub line.
 Washington Oaks Gardens State Park is part of the Great Florida Birding Trail. There are more than 200 bird species native to this area, keep your eyes peeled for the Northern Gannet, a beautiful variety of seabird that you may see diving for fish in the ocean waters. It's also not uncommon to spot the majestic Bald Eagle around these parts.
As you can see there is something for everyone at the Washington Oaks Gardens State Park!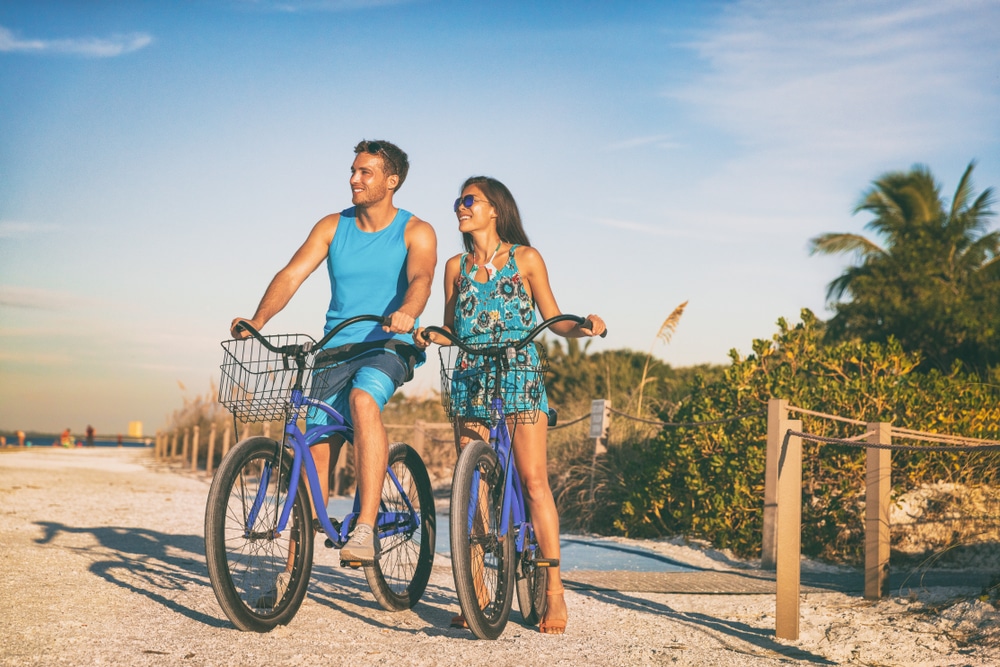 Come Relax with Us After a Gorgeous Day Out in the Sunshine
There is no better place to come home to after a long day of exploring at Washington Oaks Gardens State Park, than our Flagler Beach Inn. You'll hear the ocean waves crashing on the beach as you take a relaxing dip in the pool or as you enjoy a margarita on your private balcony. If you didn't get enough of the white sand on your outing, our private beach area is perfect for an evening sunset walk.
Luckily, at our Flagler Beach Hotel we can take care of your dinner plans. Sometimes the last thing you want to worry about after day of hiking or biking the trails at Washington Oaks Gardens State Park is where to dine out. Make a reservation with us for seasonal and festive Florida fare, which often includes fresh seafood, beautiful cuts of meat, and flavorful fruits and vegetables.
If you need any more reason to make the Island Cottage Oceanfront Inn your relaxing home base for your next getaway, we're rated #1 on Trip Advisor as the best Inn of the Flagler Beach area. We can't wait to host you in our tropical paradise, where comfort and relaxation meets the beach. Start planning your next vacation and book with us today!