For many, taking a sunset horseback ride on a sandy beach is an item on their bucket list, and Equestrian Adventures of Florida is a great local company to partner with to experience this quintessential coastal outing. They offer a fantastic menu of excursions with their trained and docile fleet of horses—all gentle guides to take you out along the water's edge, especially beautiful as the sun sets on the horizon.
Equestrian Adventures of Florida has a fantastic reputation in the Flagler Beach and Palm Coast areas. Consistently highly ranked and reviewed on TripAdvisor, this local company puts the guest experience first—knowing that horseback riding on the beach is a special and magical outing. For couples who may be visiting Flagler Beach for a romantic getaway, honeymoon, or anniversary trip, the sunset rides are the perfect addition to make your trip that much more memorable.
Before you start filling your itinerary with romantic adventures, you'll want to secure your lodging, and our Flagler Beach hotel is the perfect escape. Located on a quiet nook of the famed Flagler Beach area, known for its sleepy surf town vibes, our hotel offers a private reprieve for the best romantic getaways. Our freshly remodeled and incredibly elegant guest rooms are designed with relaxation in mind. Join us at Island Cottage Inn and book your room today!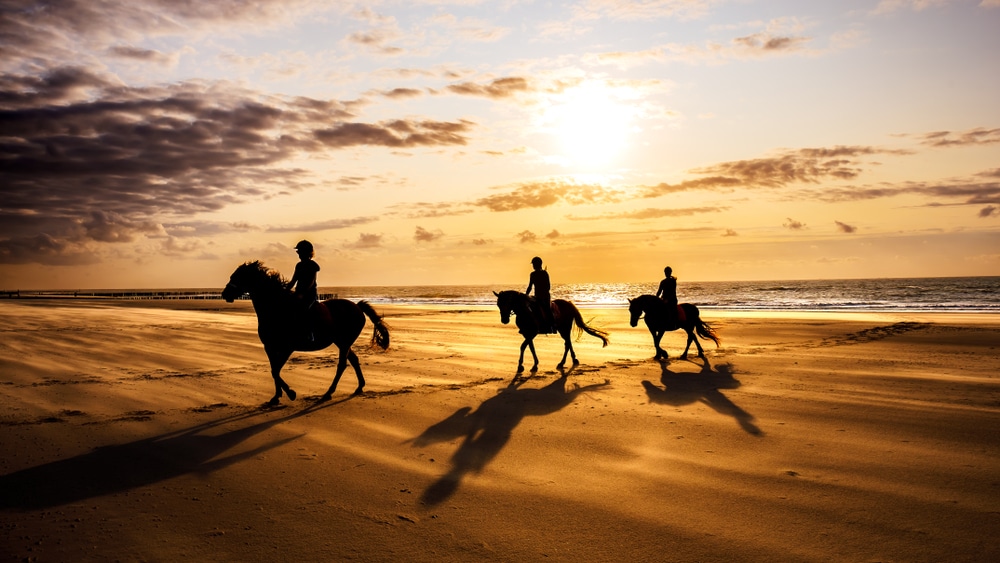 Find Romance with Equestrian Adventures of Florida
Our beautiful stretch of cinnamon sands on the Atlantic Coast is worth exploring, and there's no better way to take it all in than on horseback. These incredible rides on the beach and trails with Equestrian Adventures of Florida are an activity that you'll never forget! It's by far one of the most popular experiences for couples looking to create lasting, romantic memories.
Here's everything you need to know about horseback riding on the beach with Equestrian Adventures of Florida:
First, you'll want to set up your reservation with Equestrian Adventures of Florida. The owner, Jennifer, is super accommodating, and her love of animals shows with every ride she plans. Be sure to let her know if you have a special anniversary or even a proposal in the works.
Choose from various horseback riding packages and adventures that suit all preferences. Adventure options range from stunning beach rides to rugged and picturesque trails through old oak forests, leisurely tours of Florida State Park, and unique outings tailored to your specific needs. No matter your taste, there is a horseback riding experience just for you.
The tour usually lasts about an hour, but Equestrian Adventures of Florida also provides all-day custom adventures for those who want to immerse themselves in the views of the ocean, pause midday for a picnic lunch, and spend more time with their gentle horse. Along the way, you will leisurely stroll along the picturesque coastline, occasionally weaving in and out of the ocean waves—don't forget to update your Instagram story!
The horses of Equestrian Adventures of Florida are the stars of the show! Excellent reviews from past guests call out the horses for their gentle and responsive nature, making them the perfect guides. With 19 horses of different breeds and sizes, riders of any skill level can join. These expertly trained horses will make your experience beyond memorable.
If you're on a romantic getaway at our Flagler Beach Hotel, the best horseback riding package for you is the "Romantic Beach Ride." A special tour, just for two, can be planned with your vision in mind. They've even planned marriage proposals with guests!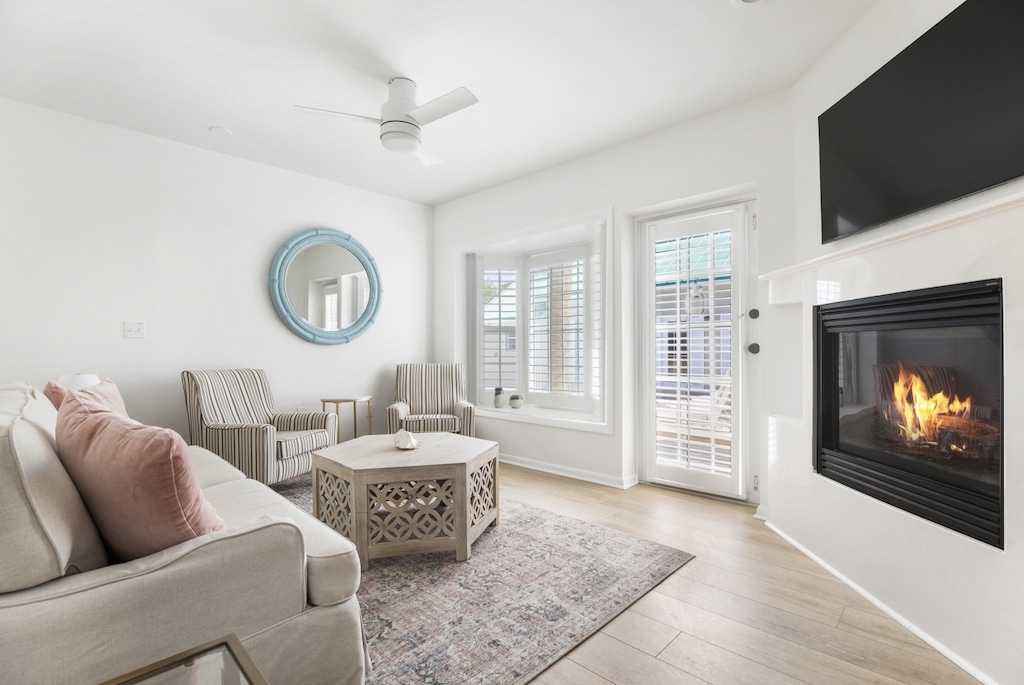 Ultimate Luxury & Ideal Location at our Flagler Beach Hotel
After a romantic sunset ride with Equestrian Adventures of Florida, there's nothing better than retreating to our romantic and cozy Flagler Beach hotel. Our luxurious oceanfront retreat is the ultimate escape for couples on a romantic getaway, honeymoon, or anniversary trip. All our newly remodeled guest suites are tailored for two with big, comfortable beds with fine linens, plush robes, seating areas, and top-of-the-line products.
Suite Five (pictured above) is ideal for slightly longer stays or couples who want more space. Five features a separate bedroom and living room, each with its own television and a poolside, garden-level location with peek-a-boo ocean views. Our hotel amenities include a king-sized bed, seasonal gas fireplace, and wet bar. Our elegant decor puts your mind, body, and soul at ease! 
Aside from our private pool and beautiful expanse of secluded golden sand, we also offer our guests a fantastic list of included perks at our Flagler Beach hotel. You'll love stopping by our cafe in the mornings for freshly brewed coffee and light, continental breakfast fare. Don't miss a slice of our homemade banana bread! The cafe, patio seating, and veranda are shared spaces for our guests to enjoy at their leisure during their stay. We can't wait to host you; book your suite today!