Imagine, the gorgeous expanse of the white sandy beach before you, the sound of waves crashing, and the gentle sway of a docile horse below you. Horseback riding on the beach is one of the most romantic activities to do in Florida. Thankfully, our Flagler Beach Hotel is the perfect location to plan this magical adventure. You'll find wonderful horseback riding tours and services with Equestrian Adventures of Florida which is in close vicinity to our Oceanfront Inn.
When you stay at our Flagler Beach Hotel, you'll be awash in the feel of the tropical islands and directly transported to paradise. A perfect location for romantic outings like horseback riding on the beach, there's really no better place for a sweet getaway for two. Our Caribbean-themed guest suites are private, comfortable, and equipped with all of the modern amenities for a lovely weekend away or a longer leisurely vacation.
Another perk of staying at our Flagler Beach Hotel is the restful mornings you'll enjoy while here. Enjoy a cup of coffee overlooking the beautiful ocean, followed by a delicious breakfast. We love to cook and it shows in our multi-coursed brunch-style meals. There's no better place to enjoy your first cup of coffee than in the shade of a cyan umbrella on our brand new deck overlooking the beautiful oceanfront. Once you're here, you won't want to leave! (Except for fun adventures like horseback riding on the beach.) Book your room today!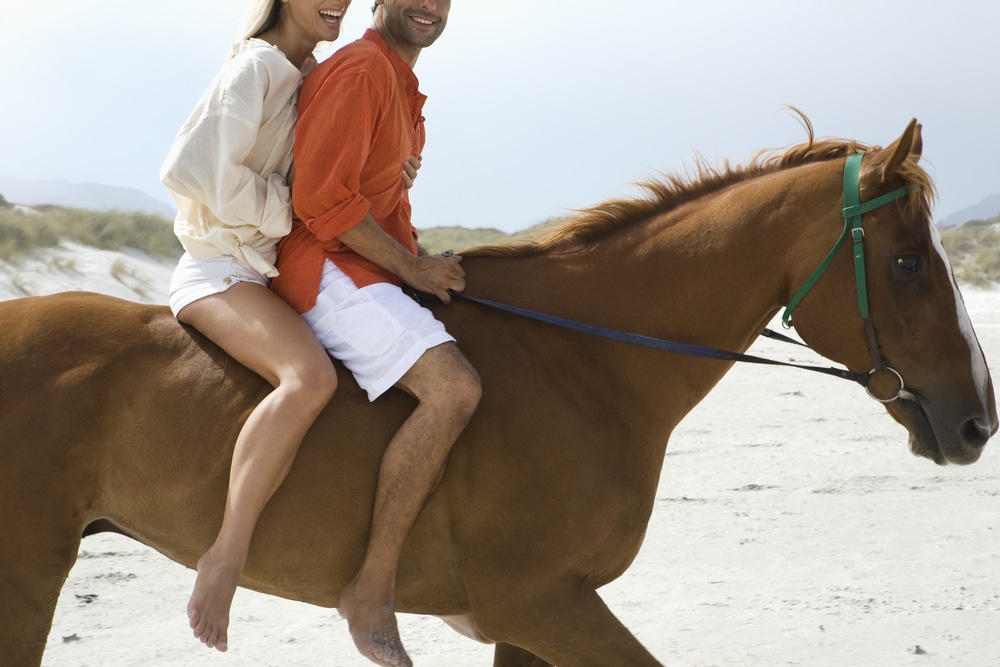 Our Flagler Beach Hotel is Best for Horseback Riding on the Beach
Flagler Beach is known for its old world charm—a part of Florida that hasn't changed much over the years. When you stay at our Flagler Beach Hotel you'll be within walking distance to our private beach. As always, one of the best ways to explore this paradise is on horseback. Here are some details on Equestrian Adventures of Florida and how to plan the most amazing day at Flagler Beach.
First things first, you'll want to get your reservation set up with Equestrian Adventures of Florida.

Pick from an array of horseback riding packages and adventures. They offer beach rides, as well as scenic rugged trails through old Oak forests, Florida State Park tours, or even custom outings to best suit your plans. There's really a style of tour for everyone. 

Tours are at least an hour, but all-day adventures are possible for those interested in a long trip to take in the gorgeous views of the beach, stopping for a picnic lunch, and really spending time bonding with your horse. You'll saunter along the coast, weave in and out of the waves, and don't forget to grab that selfie!

What to expect of the animals: Past guests rave about the responsive and gentle horses. These animals are well-trained and seasoned tour guides. Their herd consists of 19 horses of different breed and size to accommodate all experience levels and riders.
If you're on a romantic getaway at our Flagler Beach Hotel, the best horseback riding package for you is the "Romantic Beach Ride." A special tour, just for two, that can be planned with your specific vision in mind. They've even planned  marriage proposals with guests!
If you'd love to spend more time with animals and learn about the history of the Palm Coast, a trip to the Florida Agricultural Museum is in order. The 450-acre park offers wooded trails for horseback riding that wind you around a lake and over a wildlife bridge spanning the highway. You'll pass by historical buildings and heritage livestock. Stop by the non-profit museum for an interesting historical lesson in the agricultural past of Florida and you'll even get to pet some of cute four-legged residents.
After your adventure horseback riding on the beach, you'll want to eat! Head to the newly renovated Oceanside Beach Bar and Grill, just a 15 minute walk up the beach from our Flagler Beach Hotel. Heaping baskets of beer battered fish and chips, butter-poached lobster rolls, and fun and fruity cocktails are just a taste of the large lunch and dinner menu, which can all be enjoyed on the large beach front patio or inside with the AC cranked up on high.
Soak up Gorgeous Beach Vistas from our Flagler Beach Hotel
Walking hand and hand on the white sandy beach outside our Flagler Beach Hotel is one of the most romantic feelings in the world. Add on a day of adventure horseback riding on the beach, and your vacation for two will be made. When you first arrive to our Island Cottage Oceanfront Inn you'll realize this isn't your average hotel. Each suite is unique with romance and comfort in mind.
Guest room amenities range from jacuzzi soaking tubs, private balconies, kitchenettes and wet bars, and fireplaces. All offer breathtaking views of the ocean or our maintained lush and tropical gardens. You'll feel perfectly secluded, but our unobtrusive staff is available to you for any questions or needs that may come up on your stay. Join us for breakfast, light snacks, and dinner when you don't feel like venturing far from your beautiful suite.
Start planning your next romantic getaway to our Flagler Beach Hotel today!