If swimming with the dolphins is on your bucket list, you'll have to head to Marineland Dolphin Adventure just outside of St. Augustine, Florida. It's the premiere destination for an unforgettable swim with these amazing sea mammals. On a trip to Marineland Dolphin Adventure, you'll also have the pleasure of viewing sea turtles and sand tiger sharks, plus learning about these beautiful creatures along the way.
Marineland Dolphin Adventure is on the southern end of St. Augustine, which puts you less than 30-minutes away when you stay at our Flagler Beach Boutique Hotel. After a beautiful scenic drive along the Florida coast, you'll find that Marineland Dolphin Adventure can be an all day excursion, from swimming with the dolphins to kayaking through estuaries and listening to scientific lectures.
Of course, a main focus of any getaway to Flagler Beach will be about lounging by the pool, exploring the sandy oceanfront and relaxing, but adding in activities like visiting Marineland Dolphin Adventure is worth it. After your day swimming with the dolphins, head on back to our Island Cottage Oceanfront Inn and we'll have everything you need for rest and rejuvenation. Start by booking your suite today!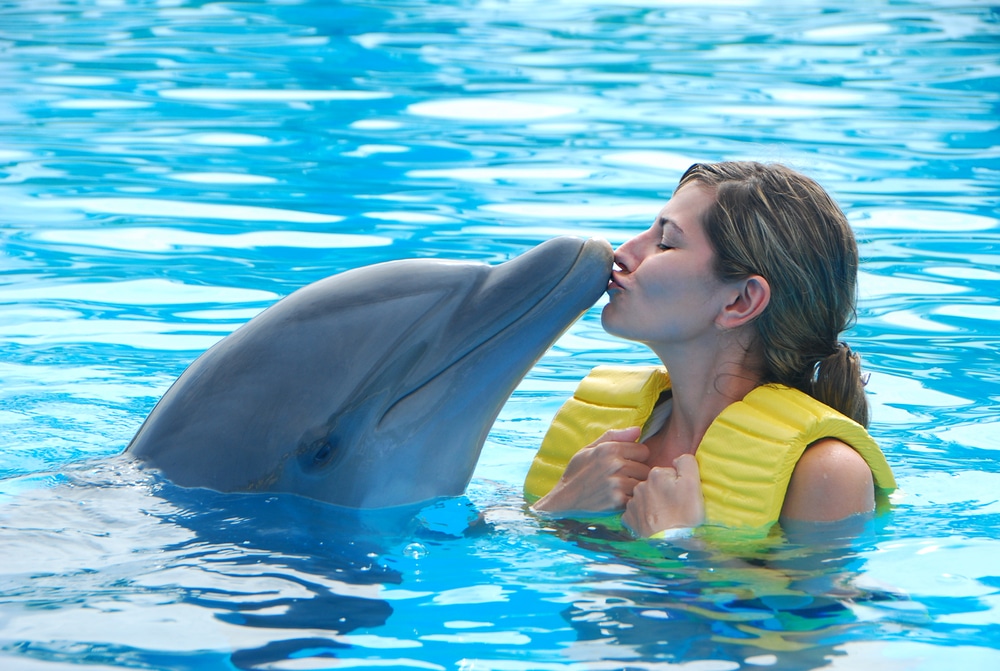 Have an Amazing Experience at Marineland Dolphin Adventure
If you want to make some unique memories on your vacation to Flagler Beach, Marineland Dolphin Adventure is the perfect place to do that. When you're recounting your trip to friends and family members, we're sure that "We went swimming with dolphins!" will be one of the first things you tell them.
Here are 7 great things to know before you go to Marineland Dolphin Adventure:
Marineland Dolphin Adventure has be operating for more than 80 years. It's been such a mainstay in St. Augustine that the area is even known as "The Town of Marineland."
There are three main programs when planning your dolphin adventure at Marineland. The "Dolphin Encounter" takes place in shallow water (the best choice for novice level swimmers), the "Swim Adventure" includes a belly ride holding the fins and gliding alongside the dolphin, and then the "Royal Swim" is for the bravest, as it involves a foot push from under the water, bursting you into the air.
If you're looking for something a notch slower speed, check out "Tortoise Time" where you can interact and feed the tortoises. Plus these red-footed tortoises are artists, so every guest who participates gets to take home their very own unique painting made by these prehistoric sea creatures.
Marineland offers some one of a kind educational programs, including "Aquarist for a Day" where you get to go behind the scenes with the staff. You'll get to help with feeding time and interact with these interesting animals.
For those who would love to spend the day above water, Marineland also offers kayak and boating ecotours. Partnering with Ripple Effect Ecotours, kayaking and boating excursions leave from this area to explore the gorgeous ecosystem where the Pellicer Creek meets the Matanzas Inlet.
If a sailboat is more your speed, Marineland partners with Schooner Freedom Charters to offer an amazing hands on sailing experience. Enjoy the warm Florida breeze, sit back, relax and keep your eyes peeled for wild dolphins who often appear alongside the boat.
Maybe the most important fact about Marineland Dolphin Adventure is that it's also a dolphin conservation center. The staff and aquarists that work here truly care about the welfare of these animals and it shows. Marineland has been a pioneer in marine science and animal training. Thankfully, in many ways, this place has paved the way for other aquariums and conservation centers.
If after your exiting day at Marineland Dolphin Adventure, you'd like to head up to St. Augustine, we've complied a great list of attractions to check out there as well.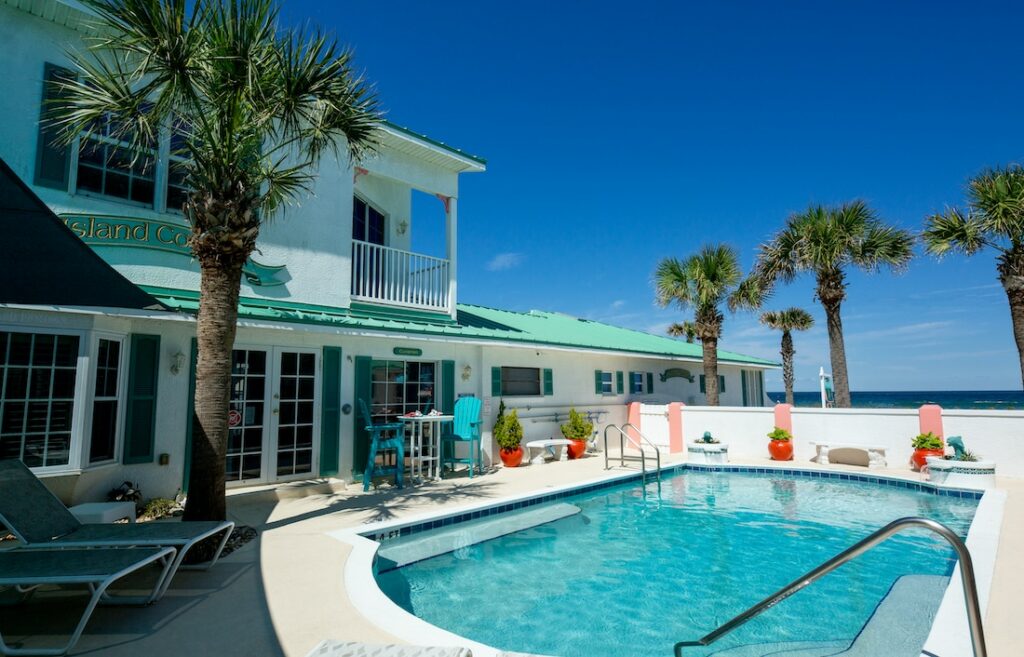 Our Flagler Beach Hotel is Luxury Lodging on the Oceanfront
After your eventful day in or on the water at Marineland Dolphin Adventure and exploring St. Augustine, you'll be so relieved to get back to our Flagler Beach Hotel. Whether you'd like to settle in next to the pool for an evening swim or retreat to the luxury of your Caribbean-themed guest suite, we'll do all we can to make your stay comfortable and relaxing.
One aspect that sets us apart from other lodging options in our area is our culinary program. We love food, and we especially love to cook for our guests. We offer a bountiful breakfast spread each morning with tasty and fresh dishes. Luckily, we also have your evening plans covered with gourmet and exclusive dinner service. Perfect to enjoy before a sunset stroll on the beach. Start planning your adventure in paradise and book your room today!