For most visitors coming to Florida, heading to the beach takes the number one spot on their itineraries. Luckily, there are so many fantastic Palm Coast beaches to choose from during your stay. This area is known for its smooth cinnamon sands, unique coquina rock formations, and sparkling bright blue waters. Spending a day, without a care in the world, under a big umbrella and listening to the waves at these Palm Coast beaches is paradise.
One of the most popular beaches on the Palm Coast is along the sleepy surf town of Flagler Beach. This six-mile beach is known for fewer crowds, surfers catching the waves, and excellent fishing spots. The downtown area offers guests a lovely mix of boutiques, art galleries, cafes, and restaurants for pre or post-beach adventures.
For those choosing to stay at our Flagler Beach Hotel, you'll have private access to our beautiful stretch of oceanfront! We're located on the southern end of town, away from the hustle and bustle but close enough to explore easily. When you're ready to hit the beach, grab a chair, umbrella, and towel (provided for all guests), head across our private beach walkover, and set yourself up on the golden sand. Start planning your next beach getaway; reserve your room today!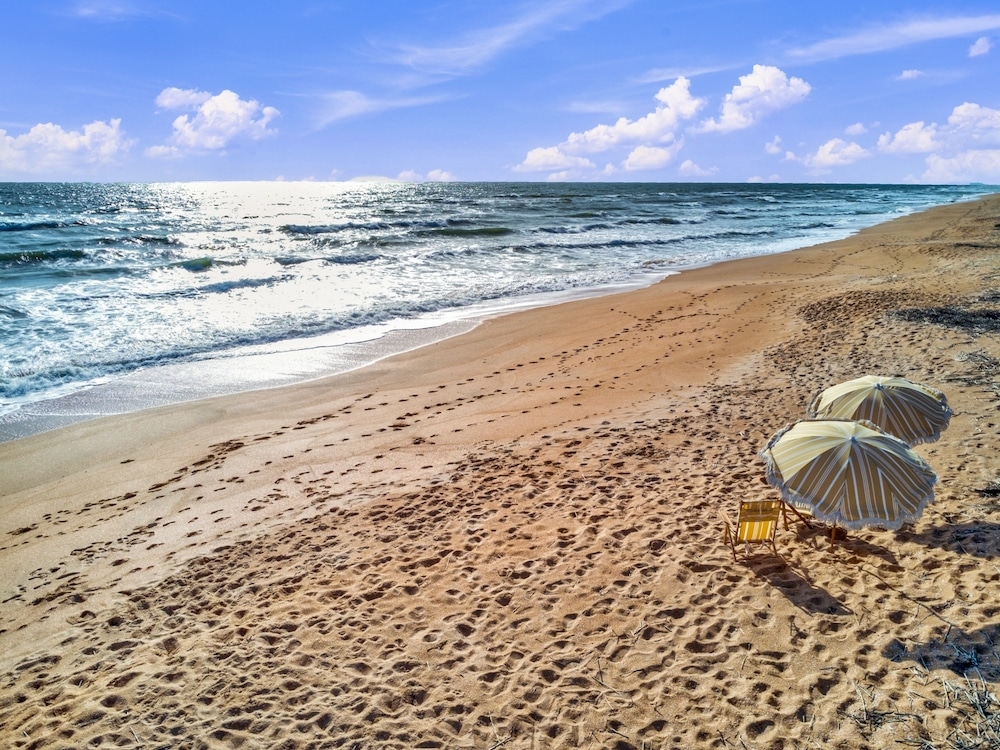 Spend the Day at These Epic Palm Coast Beaches
There's nothing like spending a day on the warm cinnamon sand at these Palm Coast beaches. As a guest at our Flagler Beach hotel, you'll want to take advantage of our private oceanfront access, and we can even set up a gourmet picnic for you. Ask your innkeeper about this fantastic (and quite romantic package).
For those who want to head out and explore, here's a list of seven nearby beaches:
Flagler Beach: Head into our cozy downtown area and discover this six-mile stretch of beach with excellent amenities. You'll find a great selection of oceanfront dining and shopping options.
Gamble Rogers Memorial State Recreation Area: Hop on one of our Flagler Beach Hotel's complimentary cruiser bikes and head to this beautiful state recreation area. The beach here is pristine, and a group of folk musicians often plays guitar.
Washington Oaks Gardens State Park: Tour the beautiful gardens, sit under the ancient moss-covered oak tree, and meander along the trails. This is one of the best Palm Coast beaches to experience the unique coquina rock formations up close.
Mala Compra Road Beachfront Park: This is a popular location for horseback riding on the beach! Equestrian Adventures of Florida operates and brings tours here regularly.
Old Salt Road Beach Park: A bit off the beaten path, this is one of the dog-friendly Palm Coast beaches. (We have pet-friendly lodging at our hotel as well!) Head here for wildlife viewing and checking out the incredible coquina formations.
River to Sea Preserve: This wildlife preserve is on both sides of state Highway A1A with ocean access and land on the Intracoastal Waterway. It will be a day filled with white sand, rock formations, paddling on the water, and exploring the walking trails.
Bay Drive Park: Part of Flager Beach, this is one of the best Palm Coast beaches offering an elevated observation deck with stationary binoculars to look out onto the waters. Keep a lookout for dolphins and whales.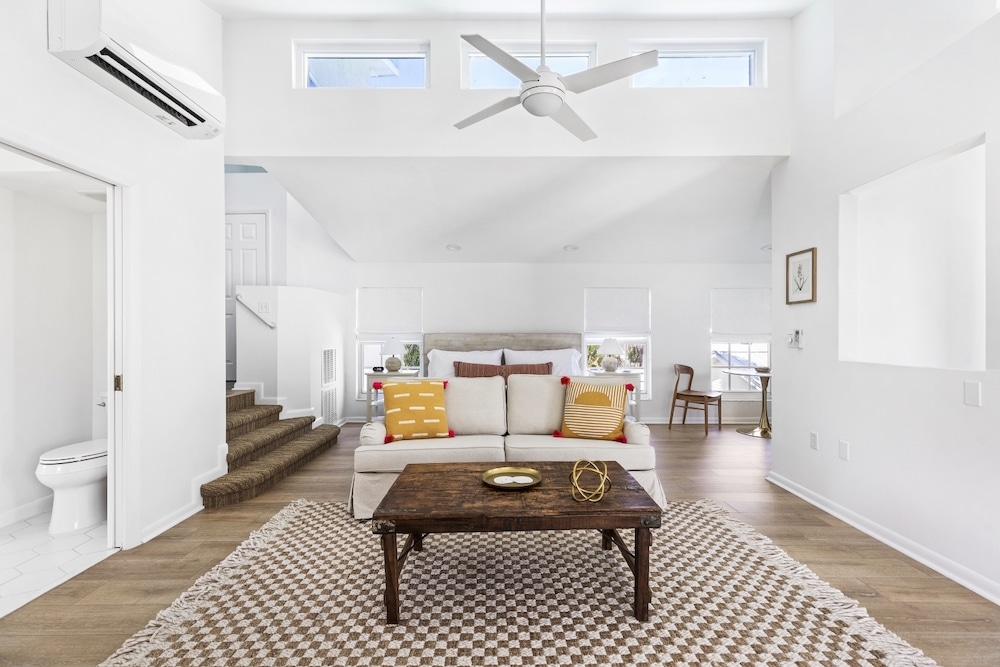 Spacious & Elegant Lodging at our Flagler Beach Hotel
After you've spent the day exploring the nearby Palm Coast beaches, our beautiful Flagler Beach Hotel will await your return. Cool off with a dip in the pool, stop by the on-site cafe for a glass of organic wine, or refresh in your beautiful guest suite, all equipped with top-of-the-line en suite bathrooms, perfect for getting ready for a night out on the town.
Our eight newly remodeled guest suites at our Flagler Beach Hotel serve as an oasis of relaxation. Bright white walls are accented with beachy colors, gold, and elegant appointments—each with unique character, but all with comfort as our number one concern. The spacious Suite One is our Honeymoon Suite with a King Bed, a seating area with a gas fireplace for cozy evenings, and a balcony with ocean views.
We prepare a gourmet continental breakfast each morning, including custom blend coffee from Bent Tree Roasters. This is just the beginning of the perks that set us apart from other lodging options in Flagler Beach; here's a complete list of our luxury amenities included in your stay. We can't wait to welcome you; book your room today!