The beautiful beaches of Florida are open and calling your name.  Our Flagler Beach hotel, located between St. Augustine and Daytona Beach, is the perfect place to spend some time relaxing away from the day-to-day stress we all face in everyday life. While you're here, there are a number of things to do in Flagler Beach and the surrounding areas that will keep you as busy as you want to be. At the heart of it all is a stay at our romantic oceanfront hotel.
Our Inn offers just 8 guest rooms, and is nestled in its own private oasis minutes from downtown Flagler Beach. You won't find loud, busy crowds here.  Instead, you'll find the oceanfront escape you've been longing for.  Give yourself something to look forward to this summer, and book a room at our Flagler Beach hotel today.
Things to do in Flagler Beach
Flagler Beach is a charming small town on the Florida Coast, located near the cities of Palm Coast, Daytona Beach, and historic St. Augustine. It's a unique seaside community reflective of "Old Florida," and the perfect destination for romantic getaways, rest, relaxation, and intimate weddings on the beach. The main draw here, apart from the romantic ambiance of our Flagler Beach hotel, is the many miles of pristine sandy beaches. Apart from that, you'll find a quaint small town filled with interesting shops, local art, delicious restaurants, and plenty of things to do in Flagler Beach and beyond.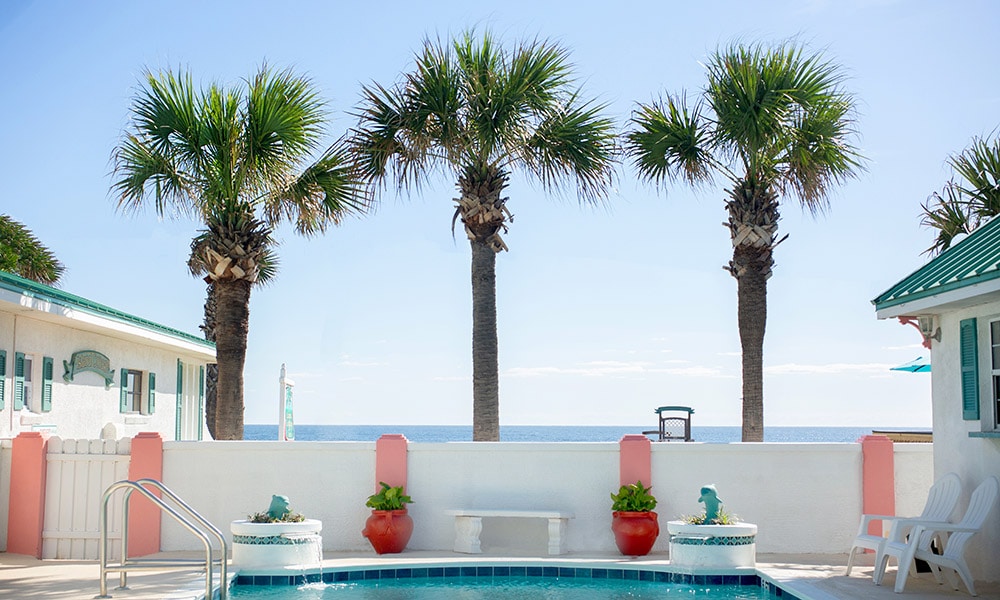 This scenic stretch of Florida's coast truly is an incredible destination.  One visit here, and you'll be left wondering when you can visit again.  Our private oasis will most certainly become your happy place.  You don't need to venture far to enjoy all that Flagler Beach has to offer, but when you do feel like exploring, there's plenty to choose from! Here are 10 of our favorite things to do in Flagler Beach and the surrounding areas.
It should come as no surprise, but spending a day on our beautiful beach is at the very top of our list of things to do in Flagler Beach. Our private beach is located just across the street and is accessible via our private, gated walkover.  The beach is perfect for romantic moonlight strolls and early morning sunrises.
Visit Gamble Rogers Memorial State Recreation Area, a great place to swim and play in the ocean, fish, walk, bike ride, or otherwise enjoy the day.
Go fishing off Flagler Beach Pier. It was built in 1927, and to this day remains a wonderful place to sit and enjoy the sights and sounds of Flagler Beach.
Visit the Bulow Plantation Ruins Historic Sight, which contains the ruins of an antebellum plantation and its sugar mill. While there, we recommend you take the time to kayak or canoe through Bulow Creek, which is a designated state canoe trail.
If you want to spend a day wandering through Florida's diverse coastal habitats, then head to Betty Steflik Memorial Preserve. The preserve is home to more than 200 acres of mangrove marsh, mudflats, and coastal uplands, and features a delightful network of boardwalk trails.
Paddling through the Tomoka Marsh Aquatic Preserve is like paddling in another world entirely.  This is where the waters from palm-lined subtropical rivers mix with the salt marshes, thus providing the perfect habitat for a variety of plant and animal life.
Take a scenic drive along the A1A Scenic & Historic Coastal Byway, appreciating this historic portion of Florida's coast. Along the way, there are plenty of white sandy beaches to explore, ample recreational adventures, and quite a bit of history to learn, which includes making a stop in St. Augustine, the nation's oldest city. Another beautiful scenic drive in the area worth taking is along Highbridge Road, which is part of the Ormond Scenic Loop & Trail.
Cool off and take a relaxing dip in our private pool; the perfect place to catch up on your latest novel or soak up the sun.
Enjoy an afternoon of birdwatching. The area is home to some of the best birdwatching on the Florida coast. You can read more about it in a recent blog.
Take a romantic horseback ride on the beach, and check something off your bucket list.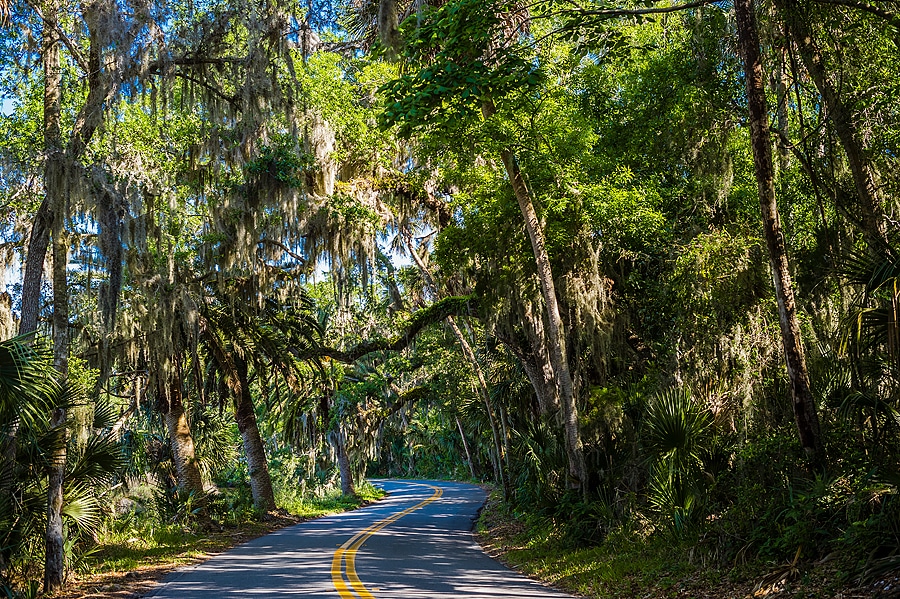 Your Ideal Beachfront Getaway Awaits
Whether you choose to do nothing but relax poolside or on our private beach, our Flagler Beach hotel is here for you.  We offer complimentary beach chairs, towels, and umbrellas to make your stay stress-free, and each of our 8 distinctive suites will satisfy your need for peace and quiet, away from the busyness of life.  Choose to dine al fresco with us on our newly completed deck, which offers breathtaking ocean views, or enjoy these treats poolside. We also offer an on-site café that provides a traditional fine-dining experience that is exclusive to guests of the Inn.
When you do feel like venturing further afield, there are plenty of things to do in Flagler Beach and the surrounding areas, including visiting the popular and busy destinations of Daytona Beach and St. Augustine. This summer, discover the timeless charm of "Old Florida," and book your stay at our Flagler Beach hotel today!